Looking for a dependable
commercial cleaning service
that shows up on time and leaves
your office building sparkling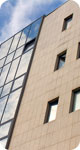 Solutions for your cleaning needs
B & G Industrial Services, Inc. provides commercial and industrial cleaning services for offices and commercial buildings in Portland Oregon.
Portland Commercial Cleaning
Dependable Service
Trained professionals
No long-term contracts
Janitorial Services
No List Needed: We Just Clean It All
If it's an office or commercial building, we clean the entire room from floor to ceiling.
No long-term contracts.
We are confident that after you see the quality of our work, you'll want us back month after month and year after year.